Problem Solving & Organization – StoryMaps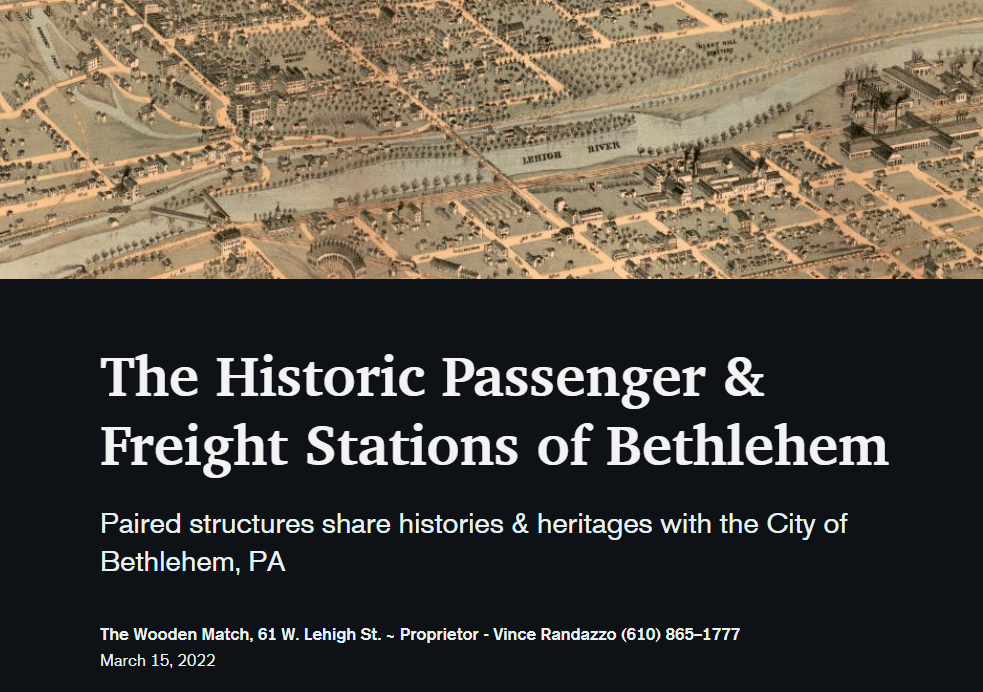 Bethlehem Passenger & Freight Station:
Grant application and accompanying Esri StoryMap, for The Wooden Match, to the National Trust for Historic Preservation's "Backing Historic Small Restaurants" grant.
Historic Plumstead Township: Crossroads & Villages, Heritage Shared
An in progress work, that studies Plumstead Township's physiography, native inhabitants, colonialism, transportation and economies, architecture, and cross-villages, in order to understand its development trends.
Problem Solving & Organization – WEB Work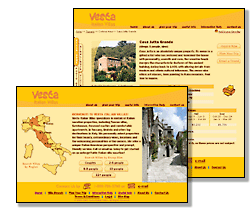 Vesta Italian Villas: Corporate Website:
Online Presence & Italian Villas Showcase. Designed to attract & allow viewers to immediately find their vacation Villas upon reaching the website, while introducing the Vesta brand in such a way as to have viewers retain the Vesta brand even after having left the site.
Vesta Italian Villas: Villa Mini-Sites:
Vesta-branded, Villa specific, mini-site for each property in the Vesta portfolio. Four focuses: Features & Benefits, Vicinity details, Highlights and Photo gallery.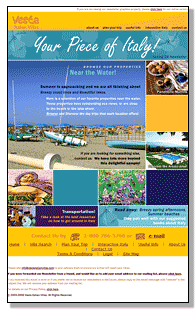 Email Campaign: Vesta Italian Villas
Seasonal email newsletters sent to opt-in only clientele and potential travelers communicating Vesta's depth of knowledge and passion about all things Italy, travel and trip planning.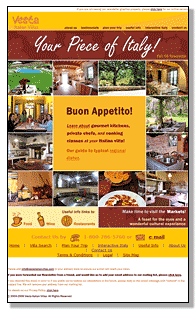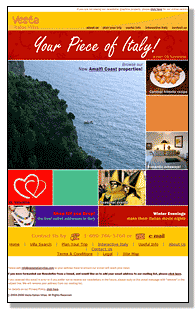 Email Campaign: Vesta Italian Villas

Keeping Vesta, top of mind, layout & content, maintained strong branding while showcasing new properties, discounts, new packages, and helpful new website tools/features.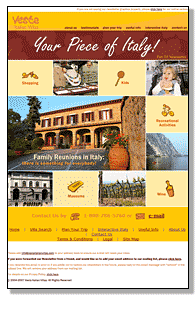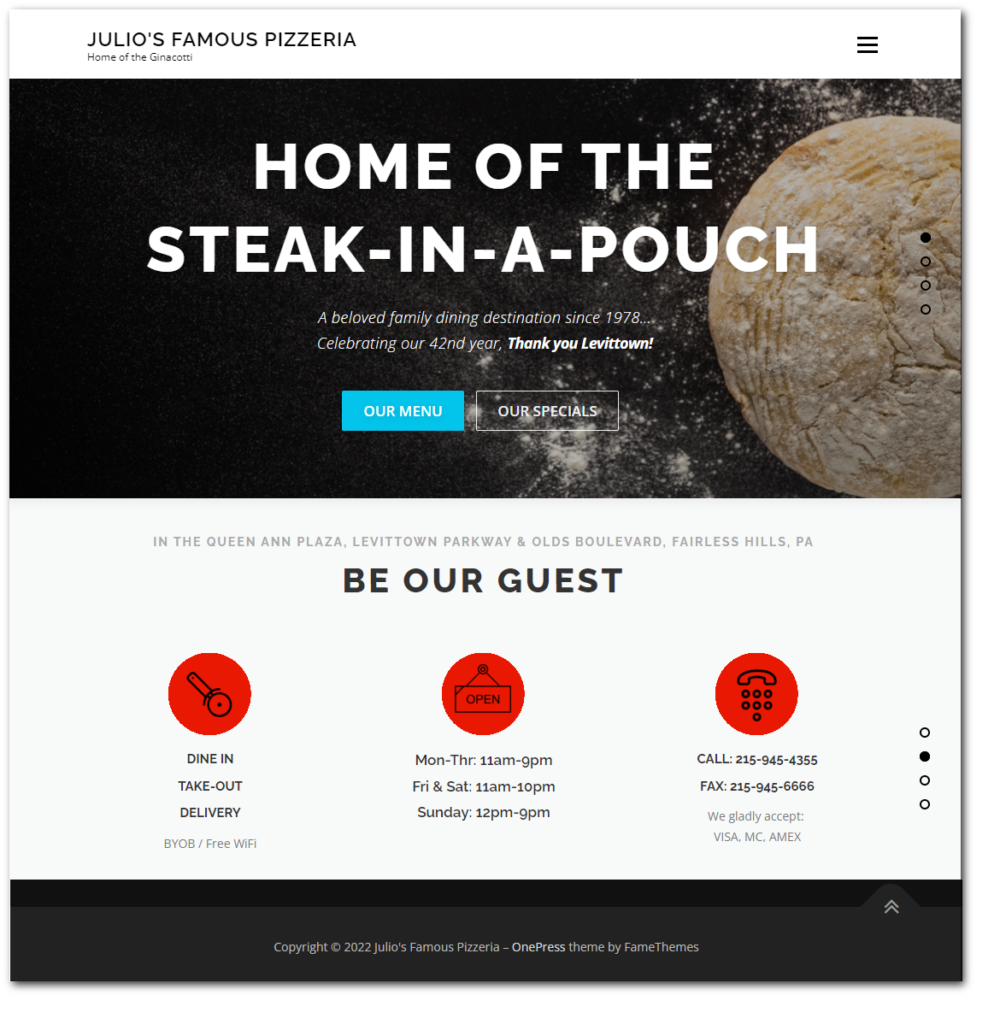 Menu Site: Julio's Famous Pizzeria
Database driven menu WordPress functionality, focuses on quick ordering. Layout modernizes restaurant's 1950's inspired interior design with updated branding that continues to celebrate their long established and successful history in their community. Providing quick access to favorite menu items, prices, hours, and contact information, aides customer order processing.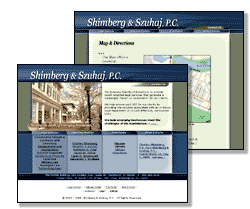 Corporate Website: Shimberg Law, P.C.
Online Presence for this law firm, designed to feature their established and emerging business foci while maintaining their small town friendly approach. replaced promotional launch min-site, announcing Timothy J. Szuhaj, Esq. to the Firm.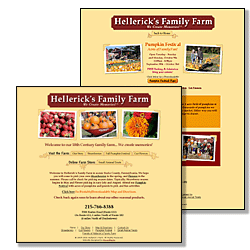 Seasonal Site: Hellerick's Family Farm
First online presence for this historic family farm. Crafted brand to complement their heritage by illustrating the sense of the "At the Farm" experience visitors have been enjoying for decades.
Developed the "We Create Memories!" concept welcoming back current visitors, aiding new visitors, and reminding both how to enjoy to the fullest their next stop to the farm.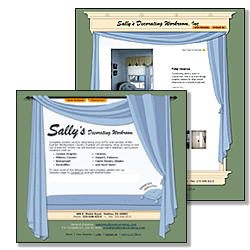 Showcase: Sally's Decorating Workroom
Creative online presence aimed at showcasing the diverse decorating solutions provided by the company.
Designed to inspire potential customers as they discover the full range of options available in the custom market. Focused on the homeowner in need of custom solutions.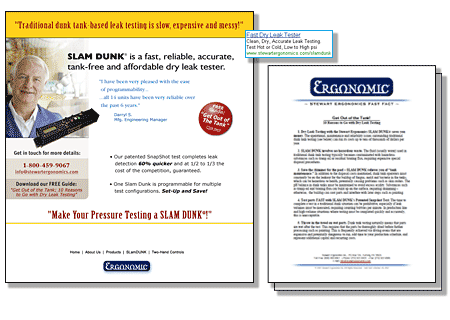 Google AdWords Campaign: Stewart Ergonomics
Keywords targeted manufacturers searching for leak testing equipment in an effort to reach a new customer base. Landing page addressed problems with water tank testing and offered client's product as the solution. Additionally, landing page offered a handy leak testing guidelines download sheet,"Get out of the Tank!" in exchange for sales lead contact information.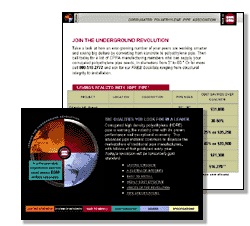 Association Site: Corrugated Polyethylene Pipe Association
Developed to be used mainly as the Association's Online Information Resource for its members. Contained Case Studies and technical booklets, pipe specifications, and a manufacturers' membership directory and application.
II.) Online Brochure: A complement to the Association's Print Media.
Product & Corporate Site: Wyssmont Inc.
Product showcase, specifications repository and outside sales tool. This is this long established process equipment company's first website. It immediatley became an integral part of their sales efforts.
The site utilizes existing raw product drawings and blueprints that were stylized for a polished website look. It also includes complex product data formatted for easy readability and navigation.
Product & Corporate Site: Polysonics Inc.
Corporate Web Site Redesign:
Online Virtual Office and Customer Center.
Product & Corporate Site: Hauser Inc.
Industrial Design Firm, Medical Division Web Site: Hauser's Medical Portfolio Showcase.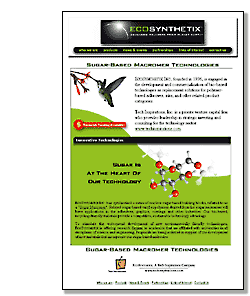 Research & Development Site: EcoSynthetix Inc.
Designed to attract Researchers into developing new products as the short-term goal. Recently launched the password-protected area as a "Researchers Forum" to share discoveries and failures.
Problem Solving & Organization – PRINT Work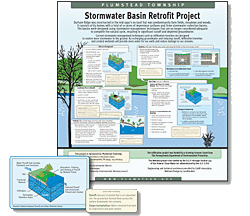 Growing Greener Grant, Educational Signage: Plumstead Township, PA
Kiosk & mailer designs, employ illustrative information graphics as a means to explain the benefits of a newly installed water retention basin. Researched required background engineering specifications, custom illustration creation, layout, and production process management.
In coordination with Plumstead Township's Environmental Advisory Committee, and in compliance with the PA DEP's grant requirements.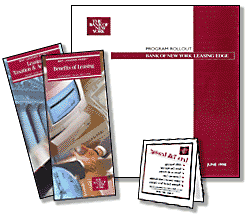 The Bank of New York: Sales Kit
Coordinating sales kit for branch staff as take-aways for their clientele. Grouping designed to aid sales staff as topic was complicated by simplifying and illustrating facts for easy reading and understanding.
Materials worked seamlessly with existing branch materials by utilizing their well-established brand. (Consisting of: two brochures, highlights card, tent card, glossary card and folder.)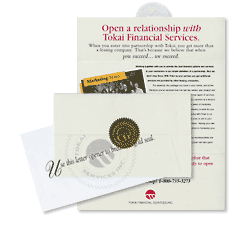 Marketing Group Mailer-Brochure: Tokai Financial Services:
Brochure / Gift Promotion introducing marketing services to prospective clientele, focusing on the customer relationship as the differentiator. It highlights The Marketing Group as a teamwork-oriented outsourcing option for equipment leasing marketing efforts.
(Consisting of: Gold letter opener, velum welcome sheet, and tri-fold Brochure)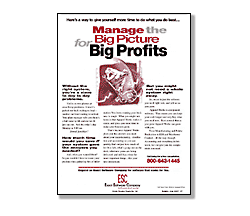 Trade Magazine Advertisement: Exact Software Company
Trade Magazine advertisement targeting the textile industry. (Bobbin, July 1997.) Ad focused on the company's ability to provide custom software for their clients' specific needs vs. the ill-fitted status quo offerings at the time.
Additionally the ad was designed to meet the client's expectations of creating print material presenting their company as an established, successful custom software firm.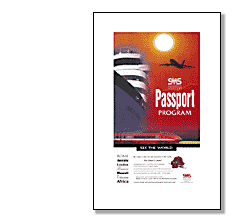 SMS Sales Team Incentive Promotion: Tokai Financial Services:
Aimed at the SMS sales team, advertising the "Passport" incentive program, and the tiered travel prize levels it awarded, concluding with extensive vacation grand prize.
Designed to attract instant attention and interest in a busy environment. As prizes were awarded, updated and worked equally as effective, as a self mailer to participants.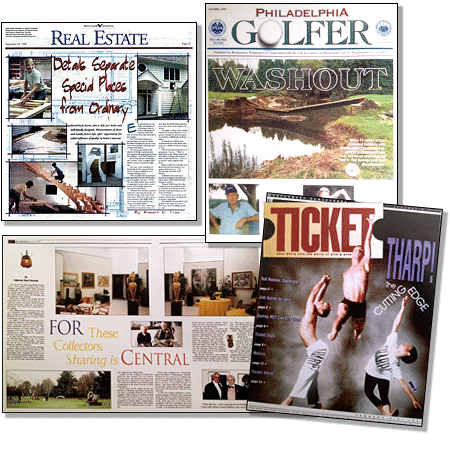 Covers and Spread Layouts: Montgomery Newspapers, Inc.
Various creative samples of print work while working for Montgomery Newspapers. The Real Estate section, center spread for Lifestyles section, Philadelphia Golfer Magazine, and the TICKET Entertainment insert cover design.