What is a Cultural Resource? And, do all communities have them? The best way to understand what resources your town has, is to go our and take a resource survey as you reach it from all angles. Take note of the changes as you reach the town center. Then, once you have arrived, step out of the car and take a slow walk around. Step up to the buildings and take a moment to observe and absorb what you are experiencing. Before you leave, close your eyes and think about the things that come to mind when you think of your town. Are there more things to add to your resource survey that you did not see on your brief tour. Below, you will find the findings of my survey for the center of Plumsteadville, PA.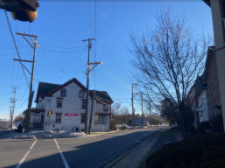 The District: (Rt. 611 & Stump Rd.):
Very difficult to experience this area(Intersection). There is no means to walk safely along buildings-too close to the street. There is a lack of a sense of community here. Surprisingly, a fairly large number of buildings of vary in age/style/condition that give the intersection a lot of charm. The Inn, a handful of Victorian homes, shops/workshops, and The Grange. Also, Kellers Church Rd. terminates into town just 400 ft or so N of the main intersection. Sadly, the intersection also includes a Giant Foods, WaWa, and a McDonalds.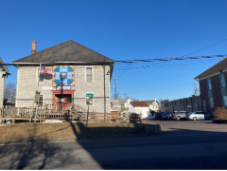 The Grange (5901 Easton Rd.):
A straight forward, and functional looking building with a hipped, overhanging roof, a small main front entrance with limited design features on its exterior elevations. Inside, shows much use and lovely details waiting for refreshing. Built to be the main gathering place for the local farming community. Still in use today; farmers market, previous voting location.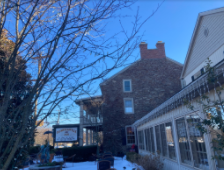 The Plumsteadville Inn (5902 Easton Rd.):
A mid 19thcentury stone Inn, built as a replacement& the heart of town. It has had many names, owners but, always an Inn/Restaurant. Always featured a large, welcoming, 2-story porch,. It sits prominently on the corner. Makes a statement, warm interior spaces on the first floor.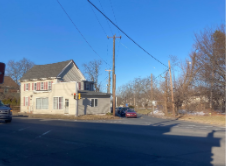 Walter Rush's Garage (5885 Easton Rd.):
Plain, vernacular 4 bay, 2-story gable roof home. A single story addition was a gas station. Situation on the corner and across from the Inn. Incredibly close to Stump Rd. and nearly at risk of being hit by passing cars. Always appears to struggle to stand straight and seemingly has no purpose/always seems empty.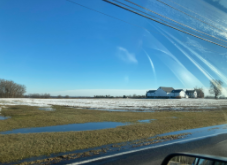 Intersection (Stump & Haring Rds.):
Just west of Plumsteadville, an intersection that takes your breath away each time you arrive due to the wide, open and vast nature of it's views visible. A very high and far view(SE) overlooking a preserved farmstead(shown here) and a second long distance view (NW) overlooking a second farm(still in operation) with distance views of a long spanning ridge, possibly Haycock Mountain near Nockamixon park. Just 2min out of Plumsteadville, you feel so faraway and get a glimpse of what the area must have been like in the early 19thcentury. Represents farming life just outside of town.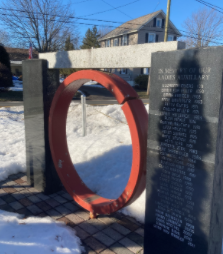 Firehouse Ring/Gong (5064 Stump Rd.):
An Object that catches your eye when you drive by the Firehouse. Situated out front, painted red& placed in a sculptural/sign structure implying significance. Up close you can immediately understand it is related to the Firehouse and has been converted into a Memorial for volunteers. It looks very heavy as it is made of thick metal. It has a cut across it to form a "C" instead of a full ring. After further research, I learned it was the original alarm for Plumsteadville Firehouse before sirens were made.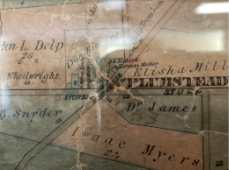 Map of Plumstead Township (5186 Stump Rd.): hanging inside the Township Bldg. is a 1859 map of the entire township. (Plumsteadville portion shown here.) The building itself was once a one room schoolhouse. The school bell is still in place on the roof. The map has been hanging since at least 2003and is well cared for. Handmade, details property lines, family names of farmers and community members. You can see how roads and areas have changed
Cabin Run Covered Bridge (): One of a few of the remaining covered bridges in Bucks county. Has suffered from being hit by tall trucks in recent years but thankfully still stands. Compared to photos available online, when you turn the corner and see it, it is smaller than you imagined. You cannot help but slowdown as you reach the first wood plank. It makes the best noises as you drive through. People are often at the water side in warmer months. This and other local Pipersville, PA18947IammissingapersonalphotoofthiscoveredBridge
I chose the town of Plumsteadville because, as a newcomer and as I started to discover my home's connections to the community, it was impossible to "see" what made this town a town. In fact, it was hard to even see it as a place to stop. Plumsteadville is one of a handful of towns within Plumstead Township, in central Bucks County, PA and seems now to be more of a drive by intersection, at Rt 611& Stump Rd. Easton Road (Rt. 611) began as a dirt road before the short lived Doylestown/Easton trolley line came through. Ultimately both streets were paved over and made wider over time.
These changes, I feel, strongly contributed to the loss of the "ville" in Plumsteadville. I say this because, you can no longer walk along the streets safely to experience the community or engage with it. For this week's discussion, I thought about the elements that stood out to me when I first moved in and were things I had a curiosity about. They seemed to hold meaning to people and felt different from what I grew up with. Through years of reading and my recent research for this week's discussion, I feel each helps to tell something about the story of Plumsteadville because they are evidence of the lives of the farmers that created this community. Without them, Plumstedville would, and could still end up being, be a carbon copy of many "drive-by," manufactured, or rebuilt towns across America. Working through the framework, taking the steps (Recognize, Identify, Document, Conserve, Share)I feel is useful as it forces you to engage on many levels in an environment around you. Viewing things from a distance vs. close-up, capturing your sensory responses, like reactions to touch of textures, light, shadow, smells, sounds, all develop a deeper sense of what is before you. You can consider your presence in the space, and between different elements. Study the contrasts, similarities, rhythms, patterns, etc, that form what makes the space. The possible combination &permutation of all these variables, create uniqueness. Once you engage yourself, you can fully document what contributes to this place's uniqueness.
These personal reactions and keen observations, help your understanding of what makes one place unique compared to others. With a record in hand, you have information/data that can be used to represent and most of all, advocate for a place's protection and conservation. It can be shared with and used to educate others of its importance in hopes they too will both come to appreciate and desire to protect it. The process helps you engage and connect with a place because you are experiencing it, not just looking at it.