Years ago, both The Intelligencer & The Bucks County Herald newspapers featured stories about how Robin Robinson, Bucks County's Recorder of Deeds, was embarking on the enormous task to conserve the county's precious collection of Deed books. At the time I was fascinated to see the photos of our very old deed books. But, I also discovered that our history, although still available to reference, was in dire need of preservation because the stories included photos and illustrated how many of the books had been left to sit in less than optimal circumstances and were in a progressive state of decay and beginning to show signs of permanent loss.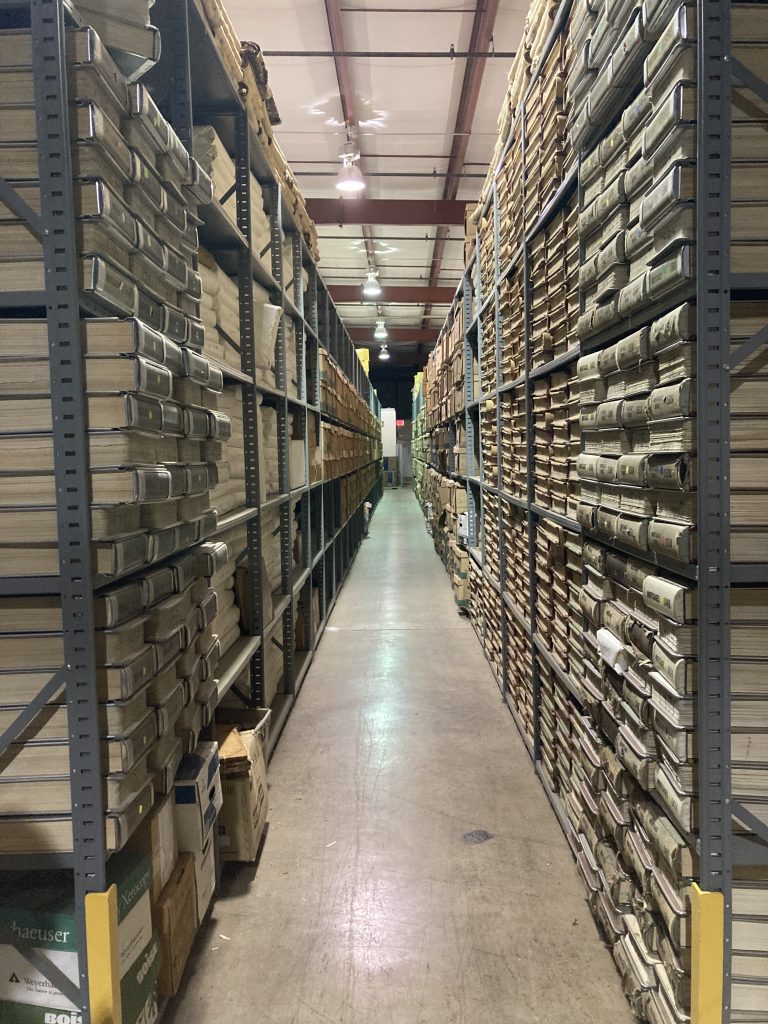 In the Fall of 2021 as part of a semester-long Research & Documentation project for the Bucks County Community College's Historic Preservation Certificate Program, on what is commonly called "The Mountainside Inn," I found myself personally benefiting from that very same project!
So, in an effort to return the favor, I reached out to the Recorder of Deeds office to see about fulfilling my volunteer hours in their office. Unfortunately, because the staff is unionized, I would not be able to contribute directly. Thankfully, Robin's first Deputy, Kristin Nielson, my contact for this volunteer requirement, was successful at arranging with Human Resources an opportunity for me to shadow her instead. I gladly accepted the offer.
1st things 1st… What is a Recorded Deed anyway?
As we learned this semester, in Pennsylvania dates back to 1684 with William Penn granting land rights. Property transfers such as warrants and patents, later took the form of handwritten indentures that were commonly but not always officially memorialized by "recorders" who documented the transaction by making a handwritten copy into our oldest of deed books. As we experienced first hand this semester, properties can be traced down through their owners' last names using the Russell system that wisely is based on the "sound" of the name, not on the spelling. Today, even though older property transfers were hand recorded and Indexed via their "Grantor" & "Grantee" names onto paper, and are now physically archived as Pages in Books and held in perpetuity for public access, modern records are now digitally Recorded, Indexed and Archived instead. In addition to all modern property transfers being recorded directly into Landex, Bucks County's electronic storage software, they are also indexed using categories such as "Mortgagor", "Mortgagee", "Tax Parcel #" and "Instrument #." And so, gone are the days where paper based deed books or their handy Russell system based indexes need to be created at all.
~~~~~~~~~~~~~~
On Monday October 25th, the morning began where Kristin gave me a tour of the office and introduced me to each Staff member and explained their role in the recording process that cannot begin until each new record's Tax Parcel # is first confirmed over at the Board of Assessments office. Once returned, the first team reviews and records the document where key elements of the transaction are "indexed." Similar to what had been done before and described above, indexing now involves staff entering categories of transactional data into text fields, resulting in the information being placed into Landex's database. With the transfer recorded and indexed, Landex also issues each document its own unique Instrument #. Now ready with more than only a name based index, this modern method provides for multiple points of entry back into the complete property transfer's file via Landex's "Search" or query you see when working with the retrieval menus.
Everyday this team of four, busily indexes transfers received electronically, as well as they must scan into Landex and index any paper filings that come in by mail or are delivered in person. Afterwhich, a second team reviews the newly indexed entries, to ensure no errors were made before the third team performs all final verifications of all the information. This important process of checks & balances, not only ensures accuracy but it permanently stores each document into Landex. Again, not only will recordings no longer be held in perpetuity in "Pages" and "Books," now the records are electronically archived and known instead by their Instrument number.
As each day passes and new Instruments are generated, the office must adhere to the PA County Records Act of 1963 that details record management. Kristin gave me some time to review the manual (PHMC County Records Manual) and then explained in particular the three different copies the office is required to create and preserve; an Access copy, Security Preservation File Copy, and the Backup of the Security Preservation File. With that, we went over to an archiving computer station where Kristin explained how using checks and balances again, the total number of indexed filings made the day prior, are collected, counted, and confirmed before uploading to offsite storage. As per their mandate, this station produces the off-site back-up archive that supplements the copy available onsite. The public is free to access the onsite archive of recordings during the hours of 7:30 – 4:15p (M-F) via Landex and for .50 per page, can leave with a printed copy.
Real Quick… A bit about Landex Webstore vs Landex Remote…
Partly due to the Covid pandemic so that staff could continue to work from and for the benefit of the public, Landex is now also available online 24/7/365. If you opt for Webstore the free service, keep in mind, your Index searches will produce Instrument #'s, a summary of the document's contents and the ability to purchase full access for a small fee. The other option, Landex Remote, does require software download and install onto your local computer, account creation and initial funding over the internet, once complete, you can access Landex just as if you were standing in their office. Plus, lifetime memberships are available for $25. The charges accrue at the rate of .15 per minute. So for complex searches, consider conducting free searches to identity Instrument #'s using Webstore then, utilize Landex Remote to view & print.
Keep in mind that, all records that first were recorded on paper into books, have also been archived. Earlier onto Microfilm, then later into Landex . Don't forget though, all of the handwritten books must be made available to the public, upon request. Books are either retrieved from their newly created environmentally controlled storage room in the basement, or, as mentioned earlier from out of the Bucks county warehouse where the records await their turn for conservation.
After Kristin and I uploaded a batch and documented her progress, we went down to the basement where all of the newly conserved books are held as well as some of the older books whose spines are no longer intact. The room was, as expected, unlocked via security code and was controlled and monitored for temperature, humidity and dew point and where this information is accessible via a password protected online access site 24/7/365. The system also notifies her directly as soon as one or more of the data points falls outside of their safe ranges. Kristin later showed me her spreadsheet where the office records multiple times a day, the monitor's results so they can compare outside condition trends to the conditions within their controlled room.
To conserve space, the books are secured on sliding metal shelves whose floor tracks keep them locked and stacked closely or easily slid apart. We then took a moment to compare an old book to one of the recently conserved books. The difference is truly breathtaking! Kristen also pointed out a book whose pages had a weird blue tinge. This could possibly be because in that time period, paper was often made from cloth rags, maybe even from old uniforms from the Civil War. (Can anyone say for certain? Maybe not, but at least the pages are there for further inspection!) We then returned to the office floor area where she showed me some original deeds that were donated to the office and were also conserved and made a point to explain the benefits of the new binding system and the fact that the protective sleeves do not need to be handled with cotton gloves.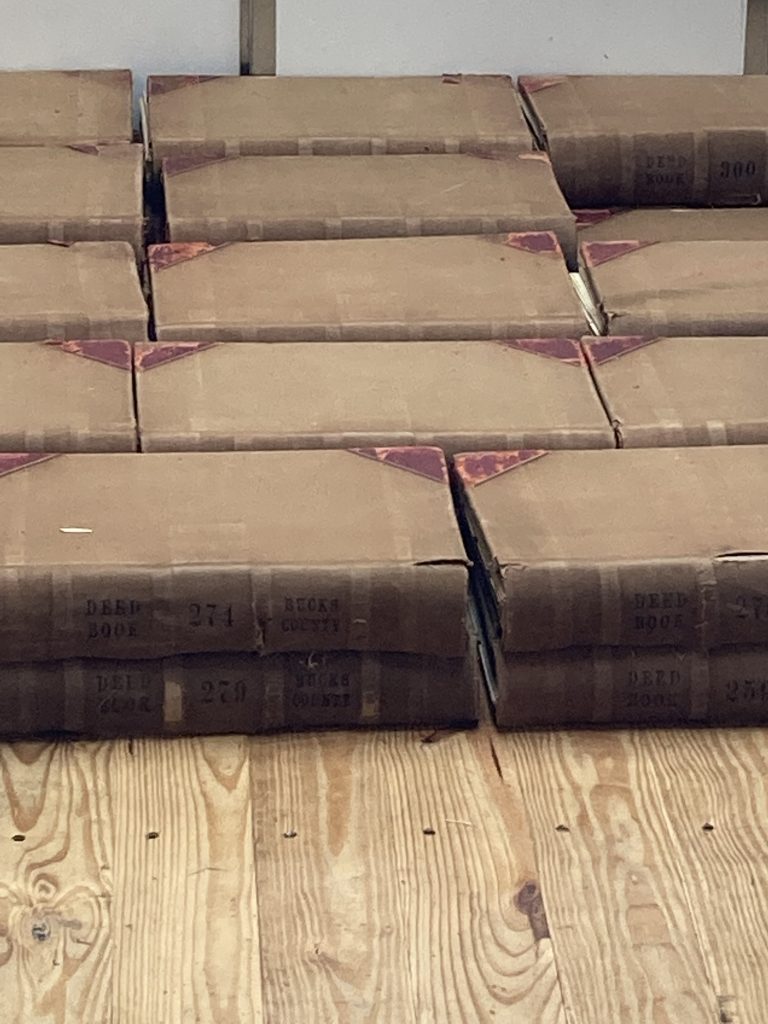 The reason Kristin selected this particular Monday was because today, Kofile (https://kofile.com/), the conservation firm, was scheduled to meet her at the warehouse in order to pick up the next batch of 33 deed books for conservation! At the County's warehouse off of Almshouse road, we also met up with Katy Meyerson, Robin's Executive assistant. Early in Robin Robinson's post as our Recorder, when she first inspected the warehouse and discovered the disastrous state of the books stored here, she immediately tasked herself, Kristen and Katy to organize, stack and catalogue all of the records found. Today with 33 books being previously prepared and stacked on a palette for their trip to Vermont, the Kofile representative, Kristin and Katy, then confirmed book by book, each one as they were loaded onto the van. In addition to every last detail being double checked, Kristin got assurance that the donors who participated in Robin's "Adopt a Book Program," would have the correct dedication plate added to the inside cover.
I was then given a full tour of the warehouse where they pointed out hallways whose shelves were stuffed full with stacks upon stacks of now labeled deed books, plan/plat and miscellaneous books, all anxiously waiting their turn! Some were ready and stacked onto pallets for conservation and there were also some that appeared as though they must be next in line.
Back at the office, Kristin showed me the PowerPoint Presentation Robin uses to illustrate the amount of detail, complexity, and enormity that this ongoing conservation actually involves.
Beginning with complete removal of the deed books bindery (guillotining) that releases the pages with minimal damage if any.
Each page is reviewed for structural damages that are then documented.
Precision scraping (sharp blades) and a water pen (dissolves) removes all manner of things in particular the tape people used to hold together rips and tears
The cotton pages are cleaned by first soaking in a water bath between layers of screen mesh, where they then lose much of their surface dirt.
Our older deeds were written using iron Gall ink which is not water soluble. Therefore, it does not bleed or wash away. It can rust so, this explains why the writing can appear a dark red in areas.
They are hung or laid flat to dry before being pressed under a weight to flatten (cockling)
Some pages have a linen protective sheath (earlier method of conservation) that needs to be removed via a bath in a solvent that also removes tape residue, followed by a careful scraping off the gelatinous residue finally making these pages clean
The de-acidification of the cotton via a costly spray
Then rips and tears are mending using a Japanese linen and an iron that leaves behind repairs that do not deter readability or inhibit the work of future conservators
Finally, the clean, dry, flat and repaired pages are inserted into poly-mylar sleeves
The sleeves have wide inner margins that protect the pages once bound via nickel hinges that are screwed into place inside new custom leather covers that allow for damage free, easy page turning.
Back out on the floor, in addition to a few conserved books, they keep a 2ft wide ball of tape, with tiny bits of gall ink still attached, that Kofile returned to them after the first shipment of conserved books was returned. They keep their ball of tape in a plastic bin as a memento of the impressive progress they and Kofile have made.
Even though the before & after photos I am including here, do not show the specifics of this very time consuming process, they do show the final product which to me is a breathtakingly beautiful, handleable, readable, clean, and conserved artifact that is ready to serve us all for yet another round of hundreds of years. Wow!
What a Great Day!
Although I could not index or sort old deed books for conservation, I learned an incredible amount of information about our Bucks County, PA Recorder of Deeds office. What began a quest in 2017 to conserve a total of 700 deed books, has succeeded in saving 300 (plus 33!) But sadly, their work is not done. To date, there remains an unsettling number of just under 400 books left to conserve!
Whether viewing on screen or staring directly at a handwritten record, I am incredibly grateful to Robin Robinson and her dedicated staff. This experience has left me with such reverent understanding that the told and untold stories of our Country, are now safely tucked away in those beautiful pages. History and our future, Thank you.
~~~~~~~~~~~~~~
Soon after, on November 4, 2021, I viewed the Oct. 27, 2021 meeting of Warminster Historical Society (YouTube: https://www.youtube.com/watch?v=eB74nK50K3M) where they hosted Robin who gave the same PowerPoint presentation that was followed by an interesting history of Bucks she and her assistant prepared using Bucks County deed books. Below, I am now able to detail how this critical conservation program was funded.
Per Pennsylvania law passed on April 8, 1981 for every recorded document, a $5.00 recording fee is applied. $3.00 goes to the Recorder of Deed office, and $2.00 goes to the County, both for the purpose of "improving records."
As we know too, Robin's executive assistant Katy, writes grant proposals that resulted in numerous funds received, including one grant for $125,000 from The National Park Service that funded the conservation of Miscellaneous books that held manumission records of enslaved people that is evidence they were granted "life rights." An incredible use of funds that we are only just beginning to benefit from.
Lastly as mentioned earlier, Robin initiated her "Adopt-a-Book" program (https://www.buckscounty.gov/416/Adopt-A-Book) that allows for anyone or organization to donate money and where their name is printed on the book plate, permanently resting inside the front cover of a deed book!
~~~~~~~~~~~~~~
WORKS CITED:
"County Records Manual" The Pennsylvania Historical and Museum Commission. Bureau of State Archives, Harrisburg, PA. 2002 Edition, last revised April 2017. Accessed online at: https://www.phmc.pa.gov/Archives/Records-Management/Documents/RM-2002-County-Records-Manual-2017-Update.pdf
YouTube: https://www.youtube.com/watch?v=eB74nK50K3M
IMAGE CREDITS:
Lower Bucks Times, 11/27/21, https://lowerbuckstimes.com/2020/11/27/bucks-recorder-of-deeds-receives-5000-grant-for-deed-book-preservation/